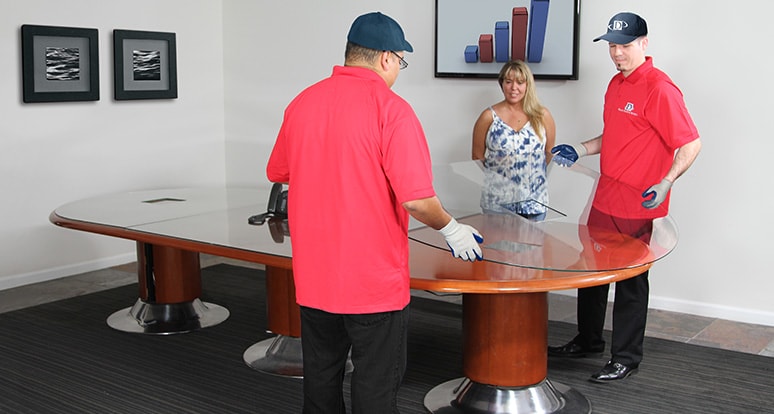 Quality Glass Table Tops for Your Business or Home
Dulles Glass is the best in the industry for your glass table top needs*:
Get custom shapes – done right and fast
Custom cutouts? NO PROBLEM!
Full-time professional installers on-staff
Quotes are free – just send us your measurements for a fast and easy quote!
* Minimum order of $224.00 for custom table tops.
Types of Glass Table Tops We Provide
Dulles Glass specializes in installing conference and meeting room glass table tops for your business. Dulles Glass will also install large and uniquely-shaped glass table tops in your home (but please be advised that the minimum order for home service is $224.00).
Your new glass table top can be customized to suit your needs:
High-quality, durable glass in a variety of thicknesses and edge shapes (bevels)
Custom-cut glass for large or uniquely-shaped table tops
Custom types of glass, such as bronze or gray for a modern, professional look
Custom cutouts – for outlets, cords, or other business-related needs
White glove installation by Dulles Glass professionals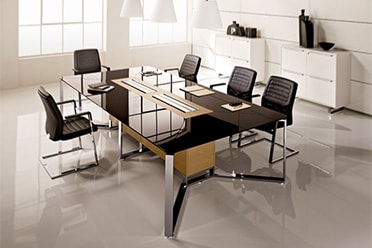 Conference Room Glass Table Tops
Create a space people want to work in! Preserve a beautiful reclaimed wooden table with a glass table top from Dulles. Or, create a stunning conference room table made of metal – and smooth out the surface with glass. Easy to clean and maintain, our glass table tops can also be fabricated with the pass-through holes and cutouts you need for things like speaker phone wires and laptop cords. A professional installer from Dulles Glass will provide you with white glove installation service at your place of business.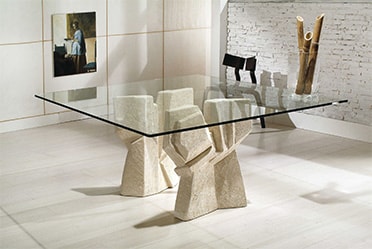 Custom Glass Table Tops for the Home
Do you have a large or uniquely-shaped table you want to protect? Or (gulp!) did you break a glass table top and need to replace it? Dulles Glass can help with custom glass table shapes and sizes. Our glass table tops are made of beautiful tempered glass and can be fabricated to the size and shape you need.
Buy Stock and Custom Replacement Glass Online
If you have a smaller table that needs protected with glass, we offer a wide variety of stock and custom table top options on our online store. Shipping is free, and we guarantee in-tact delivery!