New Textured Glass Panels for Patio Tables, Shelves, and More! PolarGlass(tm)
by Nancy Dezarn
---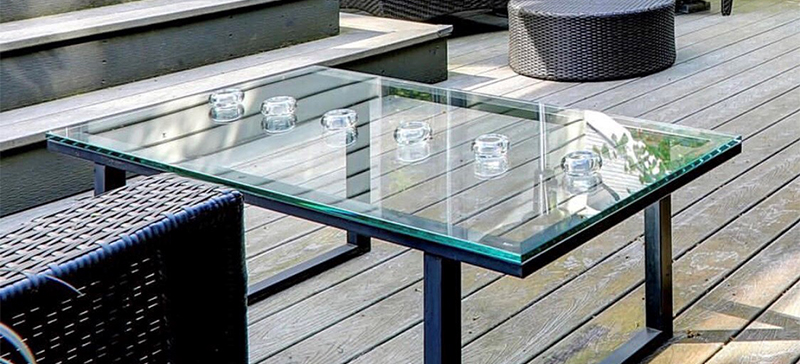 ---
We are pleased to announce our new textured glass products, ready for your custom glass purchase online. New PolarGlass(tm) is our latest addition to our customization engine that allows you to configure your glass products exactly to your specs. So how is PolarGlass(tm) used? The short answer is - any way you want to use it! But here are some examples of how a textured or pattered glass can be useful inside or outside your home.
Textured PolarGlass(tm) Panels

PolarGlass(tm) is a type of textured glass that looks a little bit like frozen water over a surface. Think of what your car looks like when there has been an ice storm. This is an all-over pattern to the glass that is textured on one side and smooth on the other, making this a very versatile type of glass. This look allows light to pass through the glass, but affords some privacy since the pattern obscures what is behind or below the glass. The decorative nature of these glass panels allows you to express yourself with a beautiful yet functional piece of glass!
Design Idea #1: Patio Table Replacement


PolarGlass(tm) can be used for just about anything, but one idea that jumps out is using this type of glass for a patio table top. Whether you are replacing the glass or creating an all new table top as many of our customers do, you can choose the exact size and shape that you want.

Here are some things to note about using PolarGlass(tm) for your table top:


If you are replacing a glass patio table top that fits down inside a frame, choose a flat polished edge.
If you are creating a table out of an object, where the table top will sit on top of it like a pedestal, choose a pencil polished edge. You can also choose flat polished edge for this application as well.
Do not choose a beveled edge. This will not look very good for your table top application. In addition, the beveled edge would be applied to the smooth side of the glass, dictating how you can use the glass.
For square or rectangle table tops, you can choose radius or eased corners depending on the look you like.


As always, you can choose to have a hole drilled in your glass patio table top to fit your umbrella. Do this step when you are customizing your table top online.
Design Idea #2: Glass Shelves


PolarGlass(tm) is available in 3/8" thickness, which is perfect for glass shelves. The textured pattern on one side can be used to add a unique look, while the smooth side can be facing up for easy surface cleaning.

For glass shelves, we recommend a flat polished edge that will be smooth and safe, while offering a modern look. Eased, radius, or even a clip and polish corner (where the corner is clipped at a 45 degree angle) are all suitable for this application.

Bathrooms, living rooms or any nook in your home that needs some sprucing up -- all are great places for glass shelves made with PolarGlass(tm).
How to Get PolarGlass(tm) for Your Home

Simply choose PolarGlass(tm) as your glass type when you are customizing your table top, glass shelf, or other replacement glass pieces. You will do this on the screen that has glass thickness, glass type, edge finishes, and corner types.
---