5 Ways to Get Your Patio Table Ready for Summer
by Nancy Dezarn
---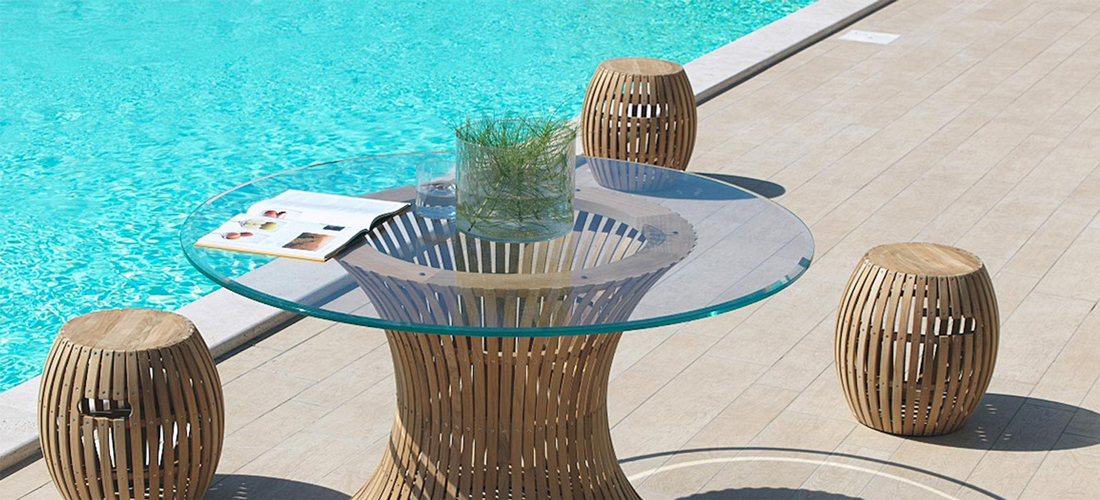 ---
Summer is right around the corner - and so are the outdoor activities that go with it! It's definitely time to start getting your outdoor spaces looking smart for summer fun. Let's look at 5 ways you can get your patio table ready for summer.
Customer-Submitted Photo
[/caption]
Replace the Table Top
First things first: many people tell us that their patio table top glass broke over the winter. Whether it was from improper storage, neglect, or winter storm damage, this scenario definitely puts a damper on your summer. If your patio table has a broken or damaged glass (or other material) top, you can easily replace it with our full selection of custom and in-stock patio table tops.
It's easy to get the right patio table top, too. At Dulles Glass & Mirror, you can get any custom size glass table top you need, whether it is square, rectangle or round. You can choose the edge finishes you want (such as an attractive beveled edge) and and even get a hold drilled in the center for your umbrella!
Give Your Patio Table a Great Cleaning
If your table is lucky enough to have survived the winter in one piece, then perhaps all that's needed is a good spring cleaning. A power washer or the traditional bucket full of hot, sudsy water should be enough for the frame or pedestal of your patio table. For the glass, you can stick with the traditional windex or vinegar/water mixture. But for a deep clean like the professionals use, you absolutely need to try our
glass cleaning products
. These industrial strength glass cleaners are what we use to clean glass in our manufacturing facility and in our customers homes -- so you know it has to be good!
Choose a Great Umbrella
Photo Credit: Abba Patio
[/caption]
There are an overwhelming amount of outdoor patio table umbrellas to choose from at any given time. But we think one is going to be a
standout in 2018! Why? Two words: LED lights. Customers seem to love
this sharp, bright red stunner with built-in LED lights
.
If you happen to be buying a replacement patio table glass top, you can get a center hole drilled for your umbrella. You can customize the size of the umbrella hole to 1", 2" or 4", with 2" being the most common size. The umbrella hole comes with a seamed edge for safety.
Banish the Bugs
Photo Credit: Anthropologie.com
[/caption]
You might be able to banish the bugs and set the mood at the same time with citronella. Whether it is in the form of candles, essential oils, or even a potted citronella plant, this natural product is said to drive off mosquitos. While science doesn't always agree, it just wouldn't be summer without that scent. And, the candles can be purchased in any style to match your decor, making for a romantic summer evening getaway, right in your own back yard.
This beauty from Anthropologie
is basically the mother of all citronella candles. With 17 wicks, it is a long-burning candle made to last. Scoop this one up before it is gone for the season!
Cozy Up with Cushions
Last but not least, it's time to put on the finishing touches. One of the best places we've found to shop for beautiful patio cushions is
Wicker Warehouse
. Their selection is simply enormous, so if you have something in mind, you'll be able to find it there. Plus, they produce a durable, long-lasting product that you'll be able to enjoy for years.
Whether you have to do a full rehab of your patio furniture and order a new glass top, or it just needs a deep cleaning or some accessories, we hope this helps you get your patio ready for summer!     
---