DIY Holiday Gifts to Make and Give!
by Nancy Dezarn
---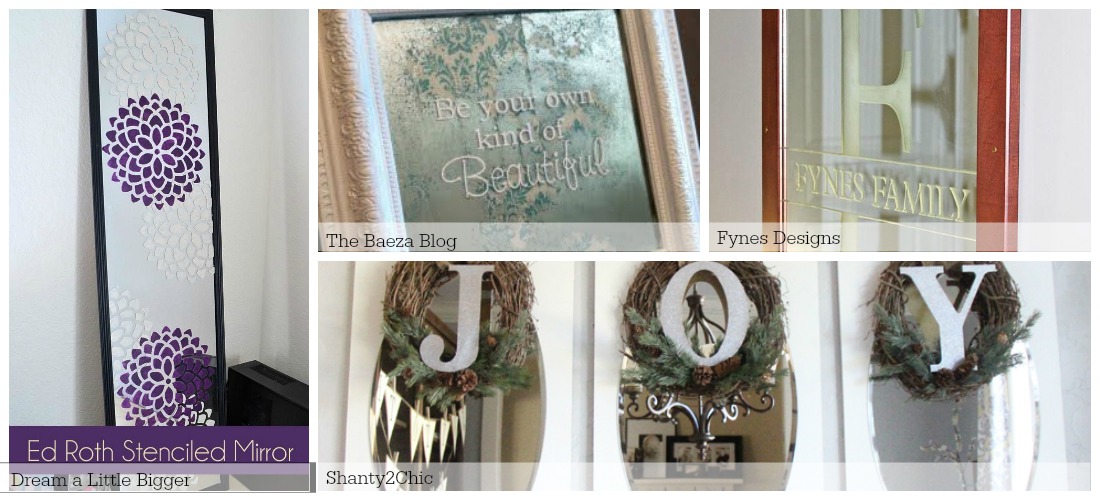 ---
DIY holiday gifts? Nothing says love like a high-quality, hand-made gift. We've rounded up several DIY glass and mirror crafts that would be great to make and give this holiday season.
**Author's note: Many home crafters also focus on being very frugal with craft supplies. In our mind, if we're going to bother making something special, we'll make sure it's a good quality item. There is a difference! Shop at Dulles Glass & Mirror for your supplies.
Be Your Own Kind of Beautiful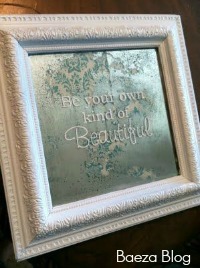 Using acid etching on a mirror to create sayings that are meaningful to friends and family is a great holiday gift - or wedding party gift, birthday present, or memorial gift -- the possibilities are endless. This one, from the
Baeza Blog
, features a hand-painted frame and etched glass. But the sky's the limit when it comes to the size, shape, and even color of glass and
custom mirrors
from Dulles Glass & Mirror.
Etching glass is quite easy, but it does require some effort on the part of the DIYer to keep safe and get the best results. It's a delicate process, also - with lots of room for errors.
Check out this
guide from Martha Stewart
(the queen of all DIY projects). She lays out all the materials you'll need to create a beautiful etching project.
Family Heirloom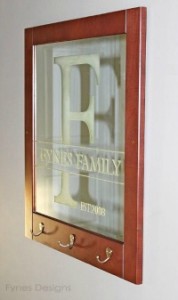 Over at
Fynes Designs
, they've created a very special (and easy) family heirloom with the family name on it. This would make a great gift for newlyweds, or a new family at the holidays. Simply done with an existing mirror, we encourage you to branch out to
find the size, shape or color custom mirror
that best suits your taste. Make this a true family heirloom with custom-cut high-quality glass or mirrors from our online store.
This particular blogger used a stencil printer to create the lettering she wanted. But in today's modern world, you can go online and find just about any stencil you want. Plus, if you're crafty, you can cut your own design out of sticky-backed vinyl to use on your new project.
Stunning Holiday Display
The Shanty Sisters from
Shanty2Chic
(guest posting here on
Iheartnaptime.com
) revealed a stunning and gorgeous mirror/wreath display. Not only could you use the mirrors and decorate for holidays and occasions year-round, they certainly do look stunning decorated with wreaths. The Shanty Sisters give a detailed tutorial at their blog (but if you don't already have the mirrors, you know where to get 'em!)
Ed Roth Stenciled Mirror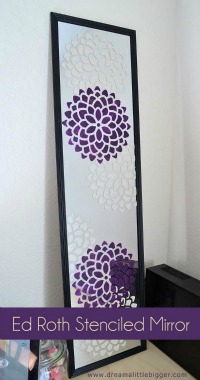 Artist Ed Roth has a popular Web site called
Stencil1
, where you can buy awesome stencils. And if you've got the mirror and the stencils at the ready, they have a full tutorial on how to create awesome mirror artwork over at
Dream a Little Bigger
. Using FolkArt paint, you can create a design of your own choosing to suit that hard-to-buy-for giftee on your list.
Where to Get Quality Mirrors for Your Projects
What
is
the difference between a "dollar store" mirror and a
high-quality mirror
from Dulles Glass & Mirror? Generally, the durability is a big factor. Our mirrors come standard at 1/4" thick, whereas cheaper mirrors are 1/8" thick. Also, you can get the optional safety backing, which ensures that if your mirror does break, the shards will hold together better.
And the last thing you'll want to consider when purchasing a mirror or piece of glass for your project is custom options.
Dulles Glass & Mirror
is the premier online outlet for premium glass and mirrors, custom-cut to your specifications, and shipped to your door in one piece. (We're pretty proud of this...can you tell?)
Get crafting on your holiday gifts today! And get Your Glass, Your Way!
Send Us Your DIY Projects!
We love sharing DIY tips and tricks that we find online. Do you have any completed projects? Feel free to share them on our Facebook page. We'd love to feature them on our blog, too! 
---