Glass & Mirrors: Valentine's Day Gifts You Haven't Considered (Yet!)
by Nancy Dezarn
---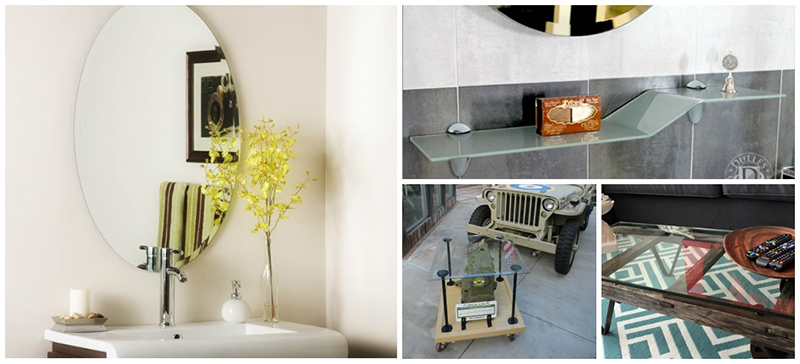 ---
Flowers. Candy. Even jewelry has "been done" when it comes to Valentine's day gifts. How can you add some sparkle and bling without diamonds? We've got you covered with a list of unique and interesting gifts that you may not have considered...yet!
Put a (Glass) Top On It

Ok folks, it's time to get imaginative here. Our customers have used almost everything as tables...from their own creations, to salvaged materials, and even antiques!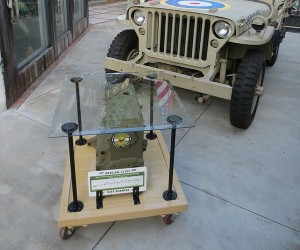 The sky's the limit. This DIY-er commemorated a cross-country trip by creating a table/display for his cracked engine block.

This may not seem to be high on the romance factor, but think about this: You can commemorate just about anything in a display like this. All it takes is a little do-it-yourselfin' and some custom glass. Let your imagination run wild!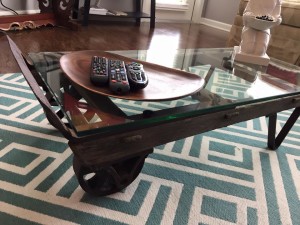 Here's another great example of what an active imagination can do. Antiquers of the world...you'll get this right away. You see a fantastic find for a great price, but don't want it in the corner collecting dust.

Ask yourself: is it flat? Then put a glass top on it. Baboom - instant furniture. Check out the full story here.

Surprise your SO with a new table - but not just any table...make it be something very special for the two of you.
Mirror, Mirror On the Wall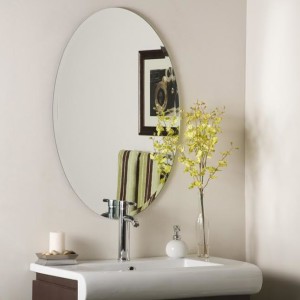 Your love is the fairest of them all. Show your honey what real beauty looks like with a high-quality to-your-spec custom frameless mirror. We have all the options you can think of to create a stunning focal point in any room.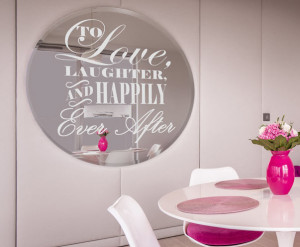 And don't just stop at hanging them on the walls. You can get super creative with stenciling, painting, and etching mirrors. On the example at left, a vinyl stencil was used to put a romantic saying on the mirror.

This easy DIY project makes for an impressive gift - without breaking the bank! For more about how to do a glass etching project, start with the expert here, at MarthaStewart.com.
Top Shelf Gifts

A high-quality glass shelf makes a great gift for anyone from a gamer to a reading enthusiast. Collectors are especially partial to this pleasant way to display curio items, antiques, or knick-knacks. Dulles Glass & Mirror specializes in sturdy, beautiful glass shelves in a wide variety of looks, colors, and hardware styles.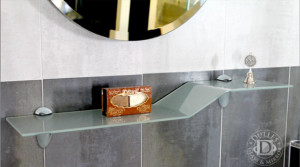 What's the difference between our glass shelves and something you can pick up at a hardware or craft store? First of all, the glass is high-quality glass available in your choice of sizes: 3/16", 1/4", 3/8", and 1/2". You choose the thickness that works best for you.

Next, you get to choose the type/color of the glass shelf to match your look exactly. Choose from clear, frosted, bronze, or gray glass. Then you can even choose the finish and style of your shelf hardware. This isn't some out-of-the-box item - this is a premium quality item that you'll be happy with for years to come.

These are a few Valentine's Day gifts you may not have considered - but really, you should! They might be non-traditional, but they're certain to brighten the day of your sweetheart. So go ahead...order some glass and mirrors! Make your gift as custom as your love.
---